Wooden Gates
Our Automated wooden gates come in a wide variety of different wood, styles and finishes. Please see our Gallery for photos of Gate styles available. These range from classic designs to more modern styles.

All of our Wooden gates are made to order and can be in solid wood 70mm thick or 55mm thick. We recommend that Wooden gates that are to be automated are fitted to a steel box section frame. This prevents the wood form warping and gives extended life to the Wooden gates and to the Automation system. The gates can be hung on Wood posts or Steel.

The Gates can be in standard Double leaf swing version, Single leaf swing version or Automated Sliding Gate.

The automation equipment is supplied by FAAC or BFT (the best quality Gate Automation equipment manufacturers) and we are registered and approved installers for both.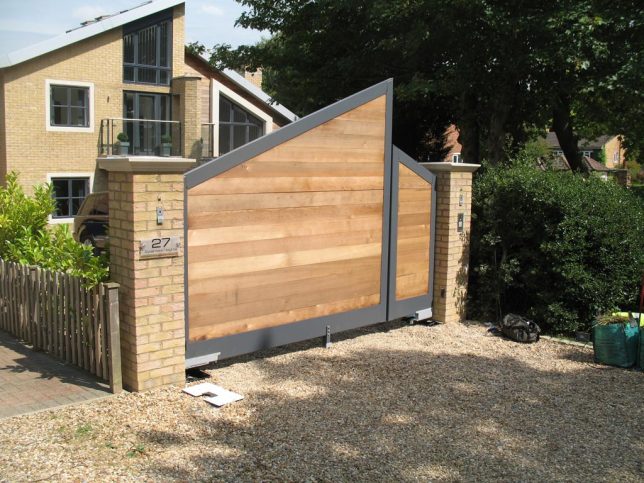 Moderna Gate
A beautifully designed pair of automated wooden gates installed in the South East. These gates were designed to mirror the shape of the house to provide an aesthetically pleasing look.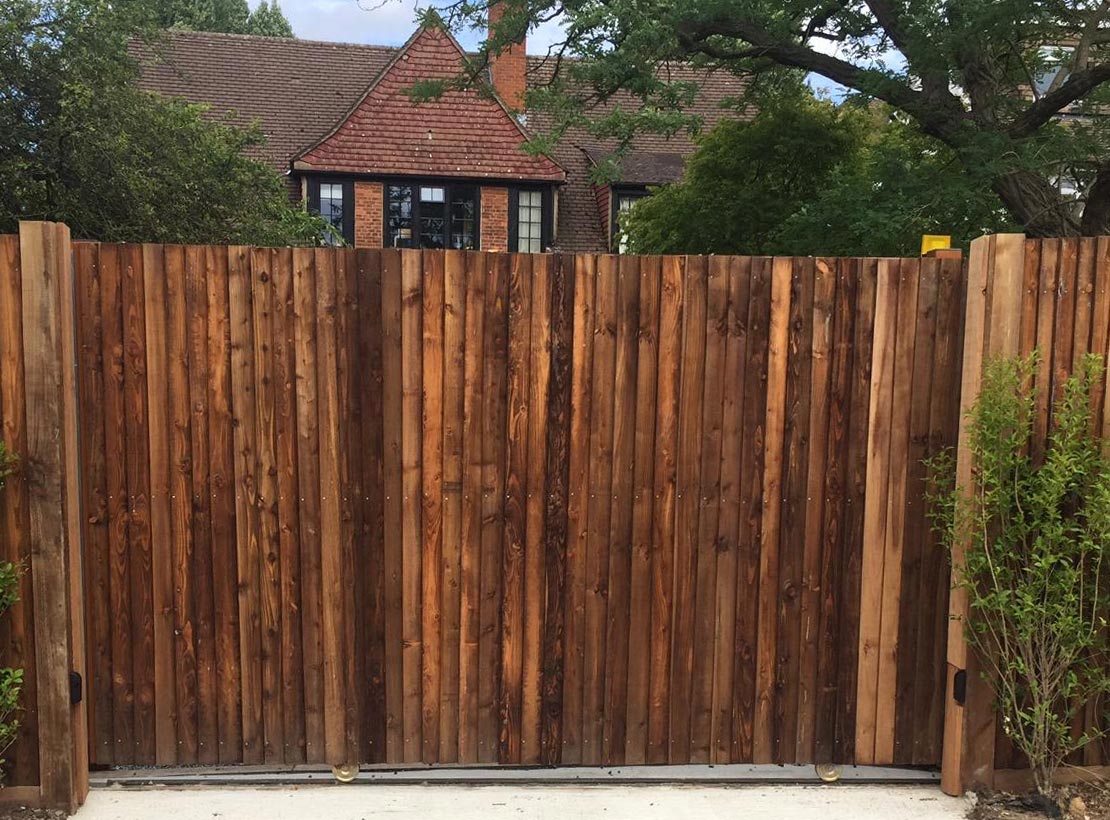 Panel Slider Gate
This automated wooden gate was designed to meet the clients requirements for a gate that would blend in with their fencing. Installed in North London.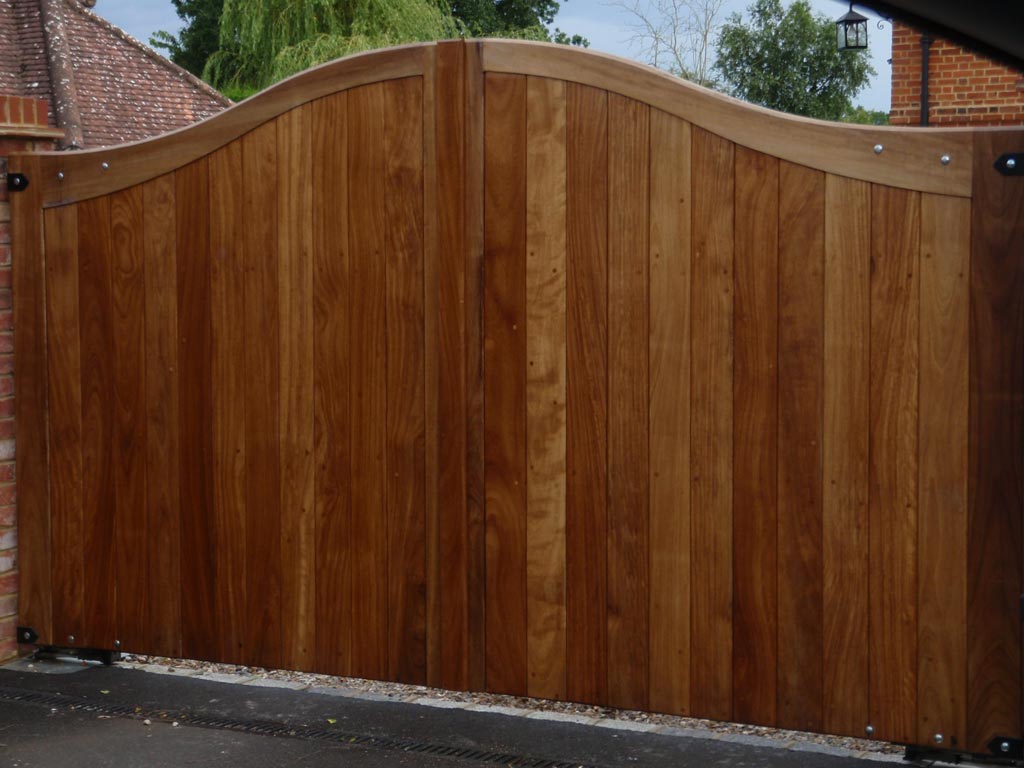 Bow Top Elite Gate
These are a classic design of gate and look beautiful in any driveway. Installation available in London and the South East.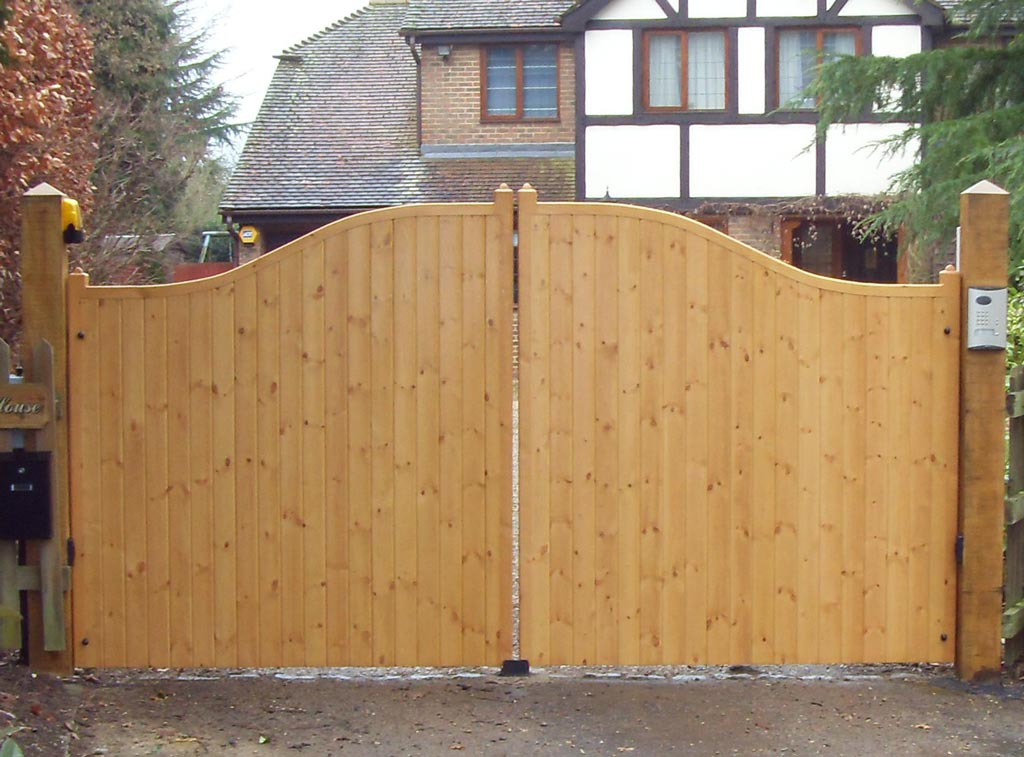 Bow Top Decor Gate
A classic wood gate design with treated grade A joinery pine panels. The gates can be automated using underground operators or hydraulic push rod operators. This Gate is installed in Surrey.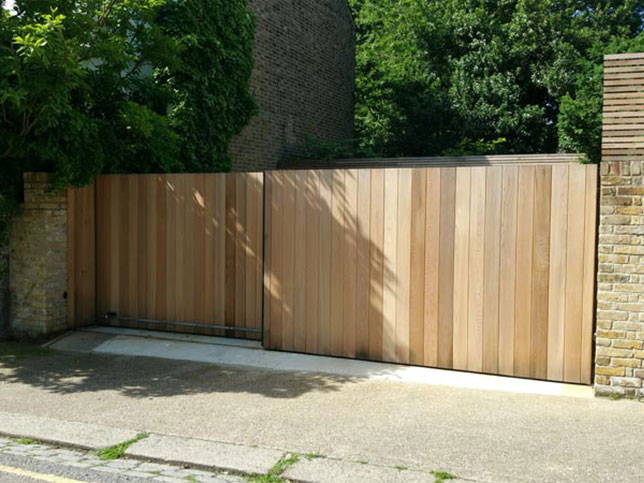 Kilburn Double Slider Gate
Wooden gates with steel frames, installed in Kilburn London. A clean and entirely bespoke installation, both sides of this gate slide towards the centre giving access to each car parking space independently.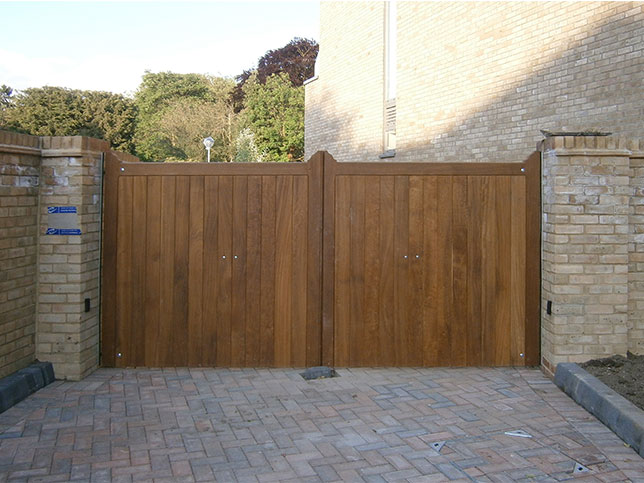 Windsor Iroko Quarley Swing Gates
Flat top Wood swing gates in Iroko for durability, A simple and elegant design that provides excellent security and privacy.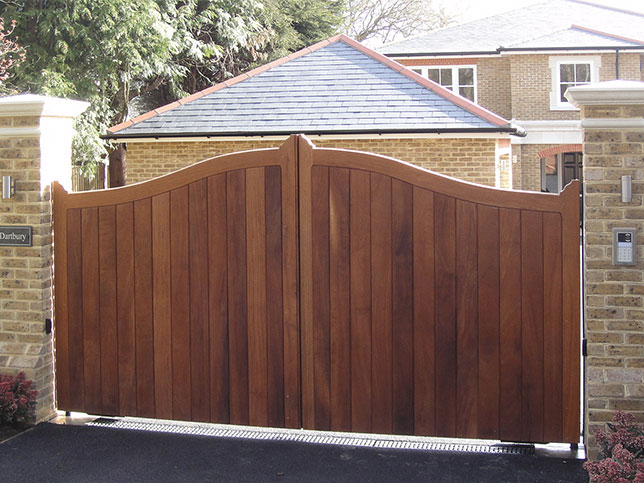 Kimpton Swing Gates
Classic curved top wooden gates with underground automation. Again providing top quality security and privacy.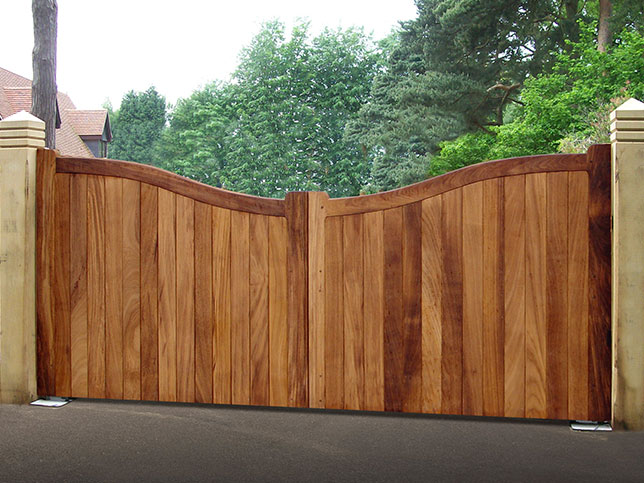 Kimpton Iroko Reverse Sweep Swing Gates
Elegant design wood swing gates rising to ends and providing a alternative to our basic Kimpton swing gates.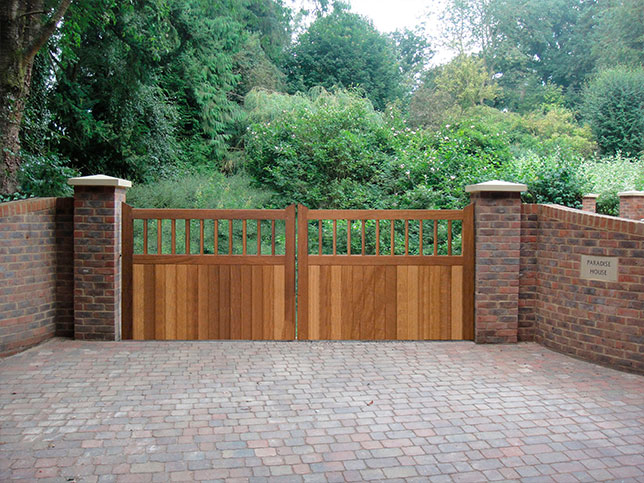 Hampshire Greately Estate gates
Beautiful understated pair of wood gates with underground automation. These gates give a stately look to any home and provide excellent security.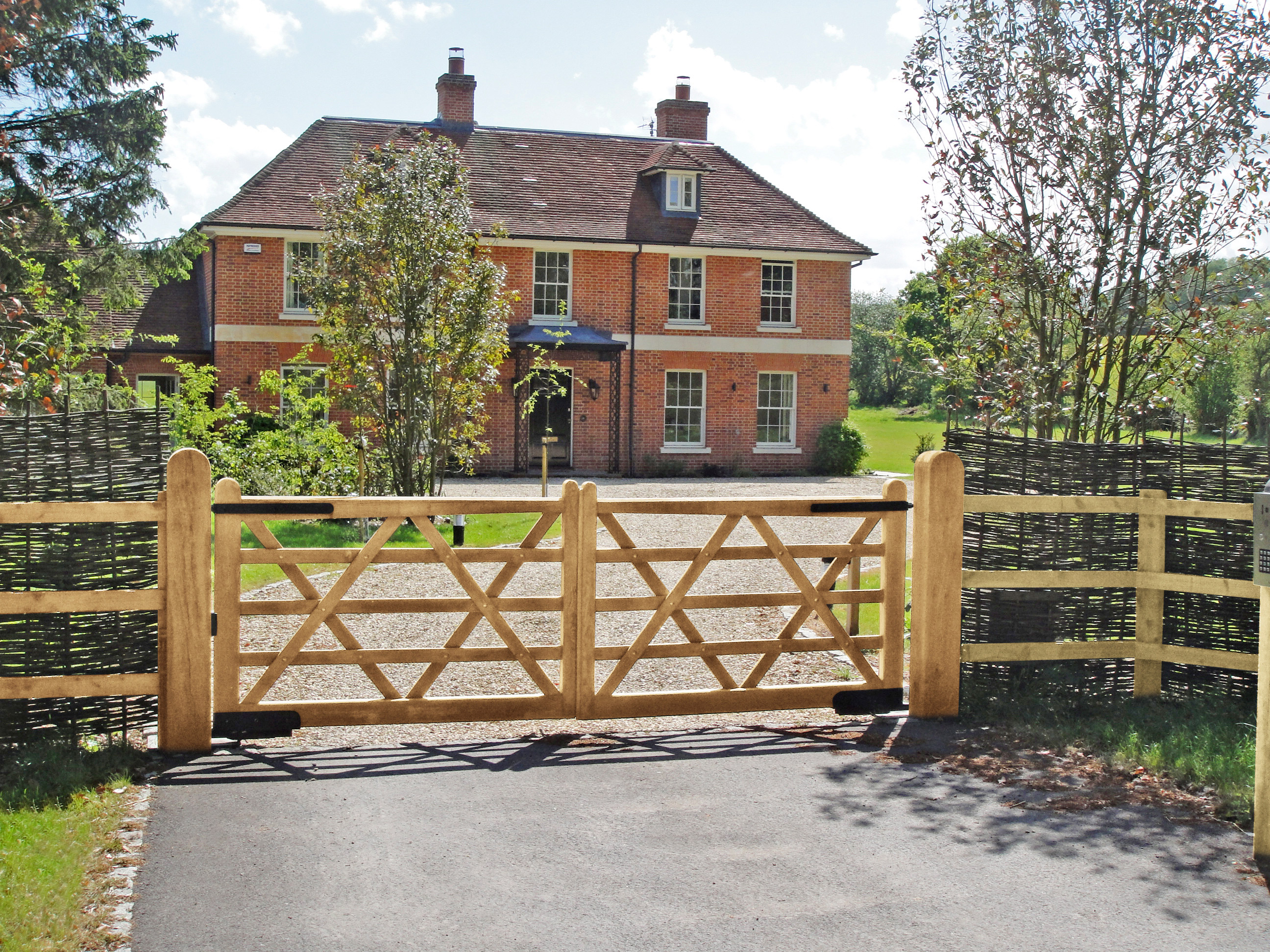 Ascot 5 Bar Wooden Gates
Double swing soft wood 5 bar gates with underground automation. More for aesthetics than security, these gates give a beautiful look while keeping the house visible as the centre piece of your property.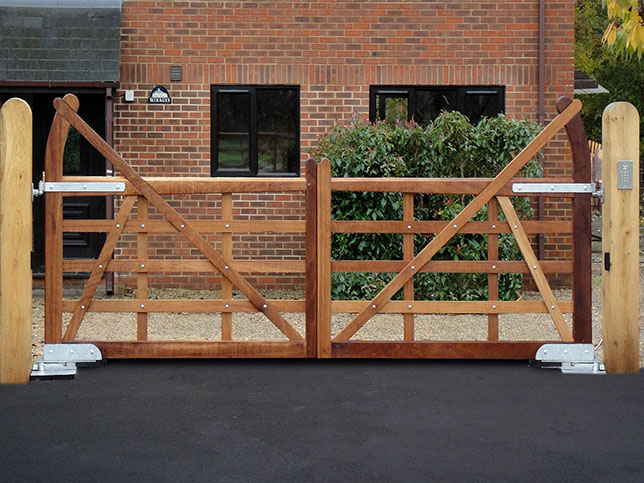 Ascot Estate Iroko 5 Bar Wooden Gate
Double swing Iroko 5 bar gates with upswept wings and underground automation. Iroko is a beautiful alternative to Teak, giving you a similar look for a lower price without sacrificing any Durability.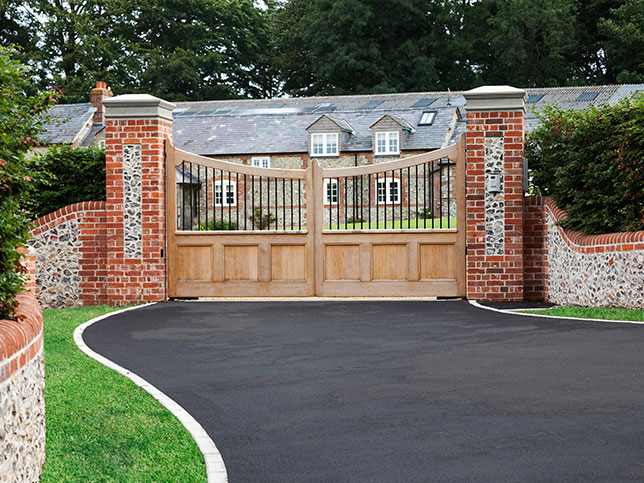 Northwood Grace
Reverse sweep wood gates with panelled lower section and steel bar infill top section. Beautiful bespoke design. Available in different woods for that perfect look.