Metal Gates
Our Automated Steel gates are also available in a huge variety of different designs or made to order to suit designs by others.

Please see our Gallery for photos of Gate styles available.

All of our Steel gates are made to order and are Powder coated to provide a durable and long lasting finish.
Steel gates are made with box section frames and hollow steel bar infils to provide maximum strength with minimal weight. The gates will be very rigid and this gives a longer life to the Gates and to the automation system.

The gates can be hung on Steel posts which we install in suitable heavy duty foundations. Steel Gates are installed with the same quality of Equipment and safety as Wooden gates. The Gates can be in standard Double leaf swing version, Single leaf swing version or Automated Sliding Gate.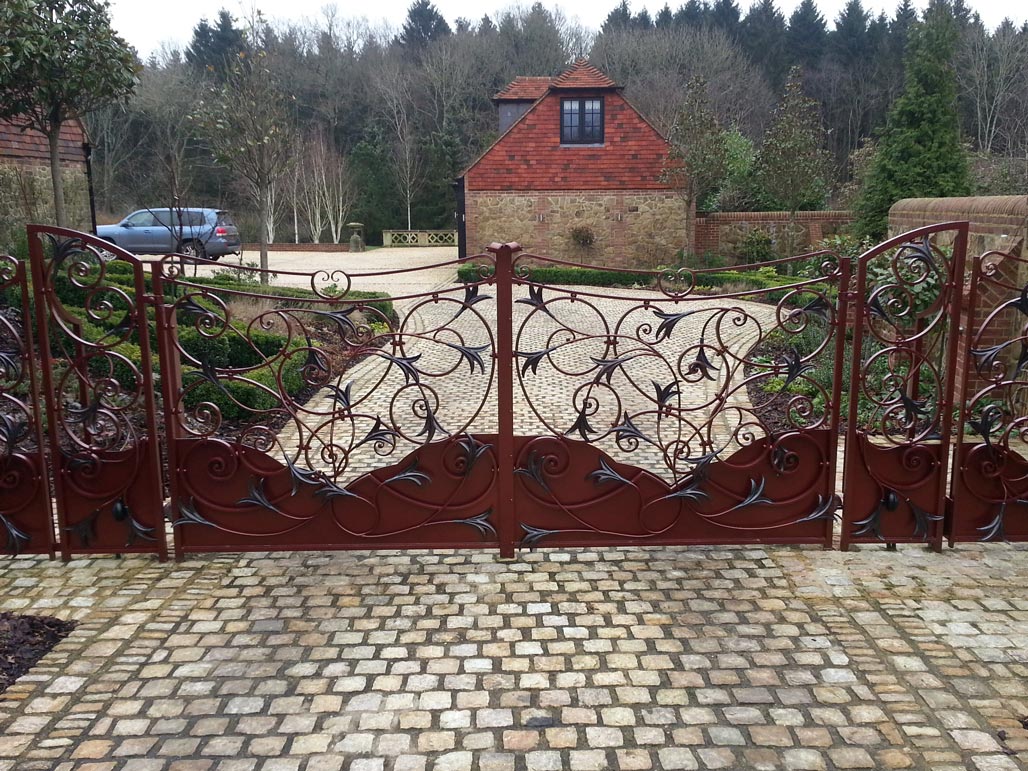 Bronze Lillies Gate
Our automated gates can be made to any design. These beautiful gates installed in Surrey are hand made by certified blacksmith to a design agreed with the client.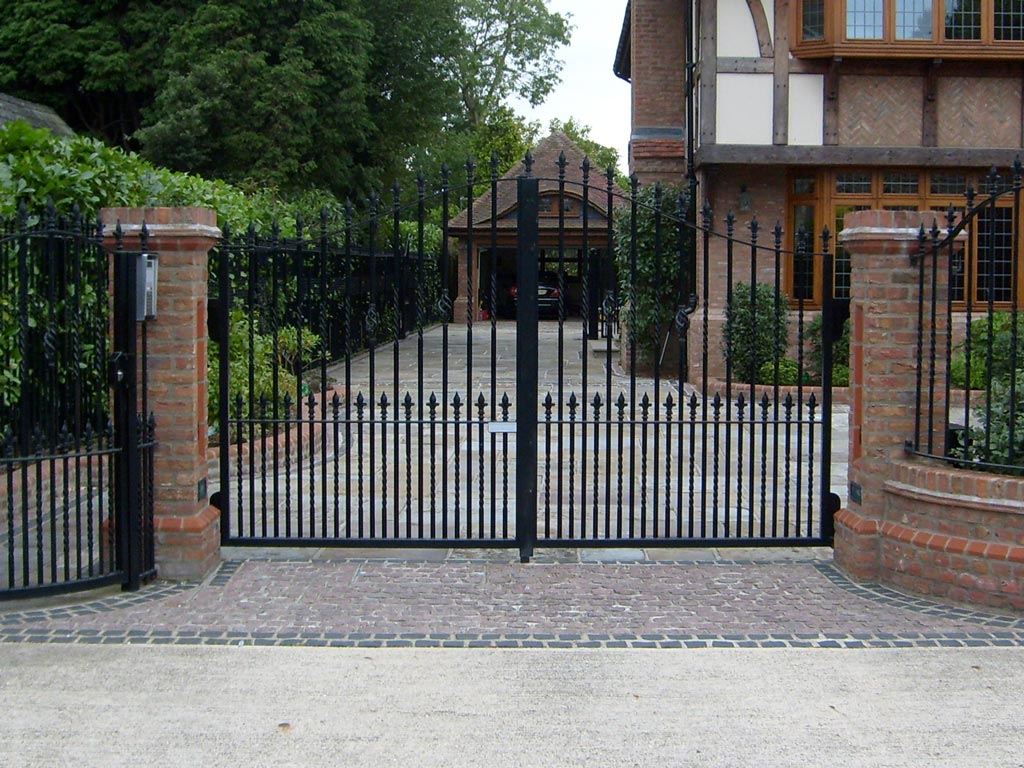 Branham Gate
These automated vehicle gates installed in North London are made in our own workshops. The gates are shot blasted and then powder coated for a beautiful and durable finish.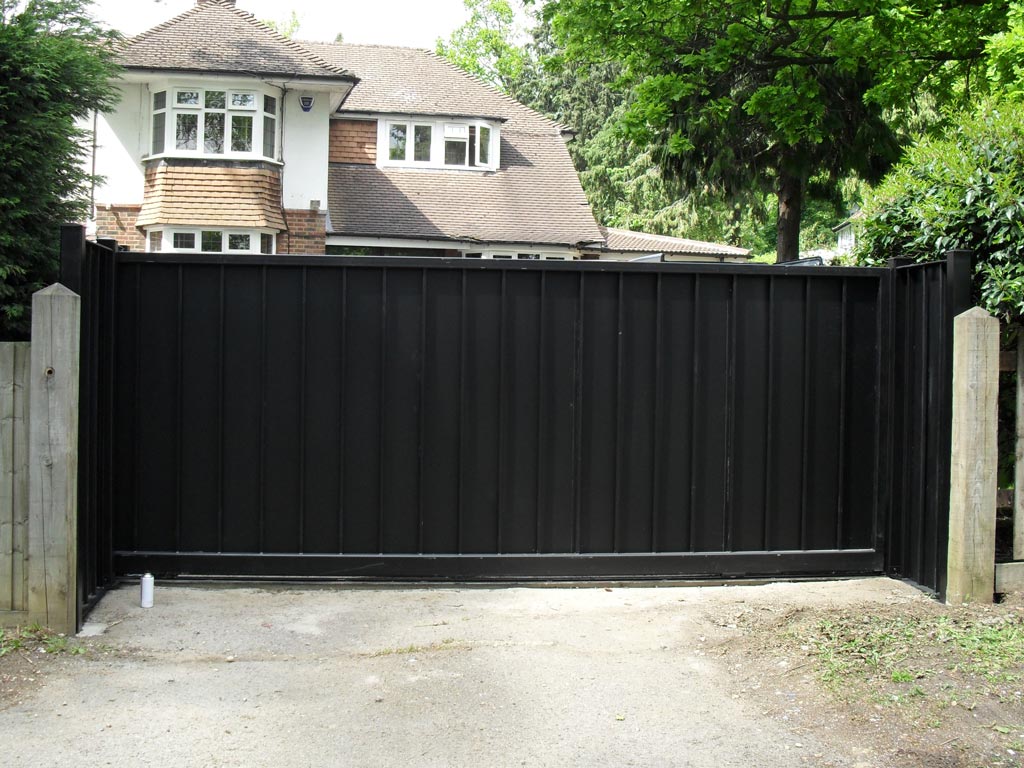 Mitta's Castle Gate
This is a sliding gate made to suit to a customer specific requirement. The gate is installed near a busy road in Harrow and the client wanted automated a gate to secure the property and to maintain privacy.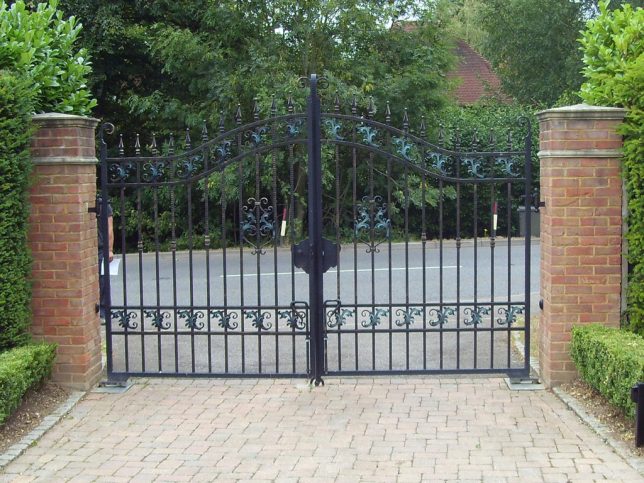 Versailles Gate
This is a beautiful special design pair of automated gates. The gates are fitted between piers that enhance the entry area. Special scroll features have been added to the gate and have been picked out in blue to further enhance the beauty of the gates.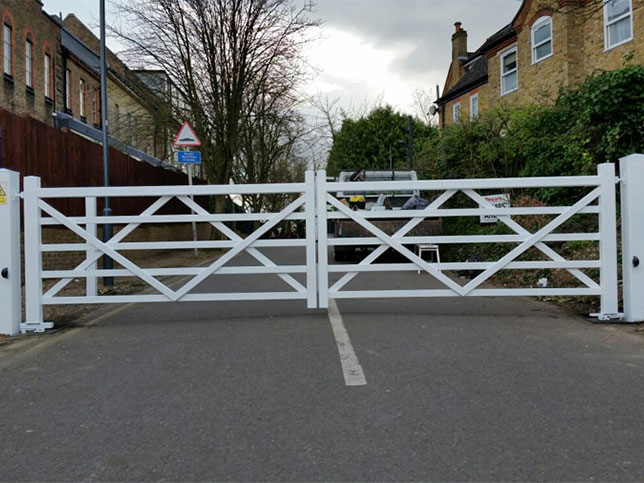 Harrow on the Hill Estate Gates
2 steel gate leaves fabricated to match and replace existing wood 5 bar farm style gates on the estate. Fitted to steel posts and automated using underground operators.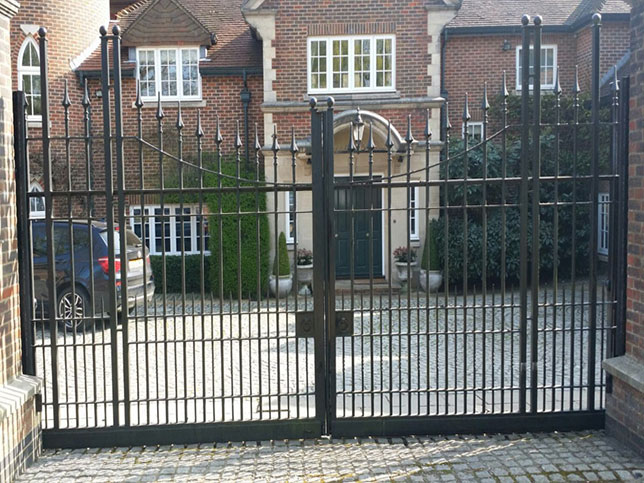 Totteridge Double Slider
A pair of steel swing gates that we converted to 2 sliding gates with tracks to substantially increase the free parking area at the front of the property. The slider configuration means there is no need for there to be an area clear for the arc when the gate opens.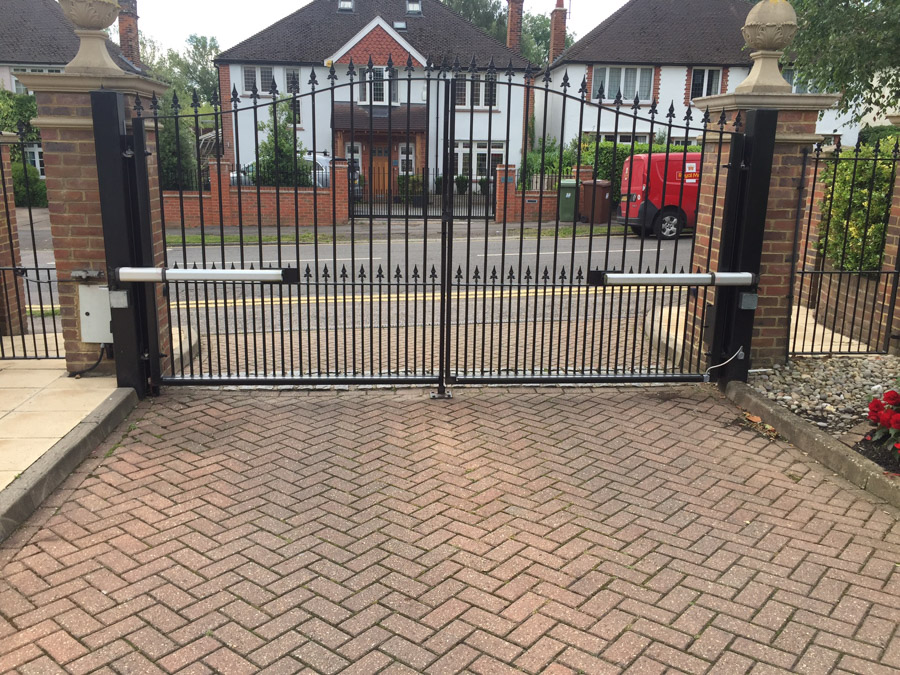 Northwood Decorative Gate
Bow top steel swing gates with underground automation. Giving a beautiful decorative look to these gates, automated with hydraulic operators for a smooth and reliable system.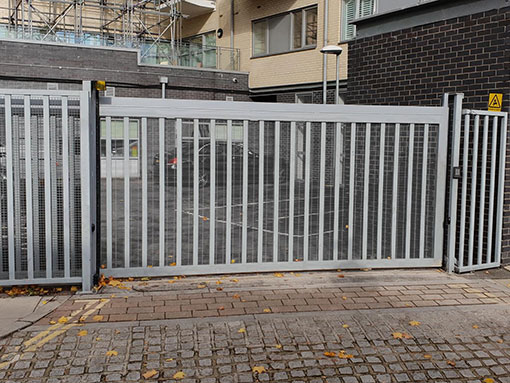 High Security Sliding Gate
A steel gate automated with a reliable and safe slider motor, this provides unprecedented security and safety, due to the completely kenneled in design. No access to the motor or running gear means very low injury and vandalism risk.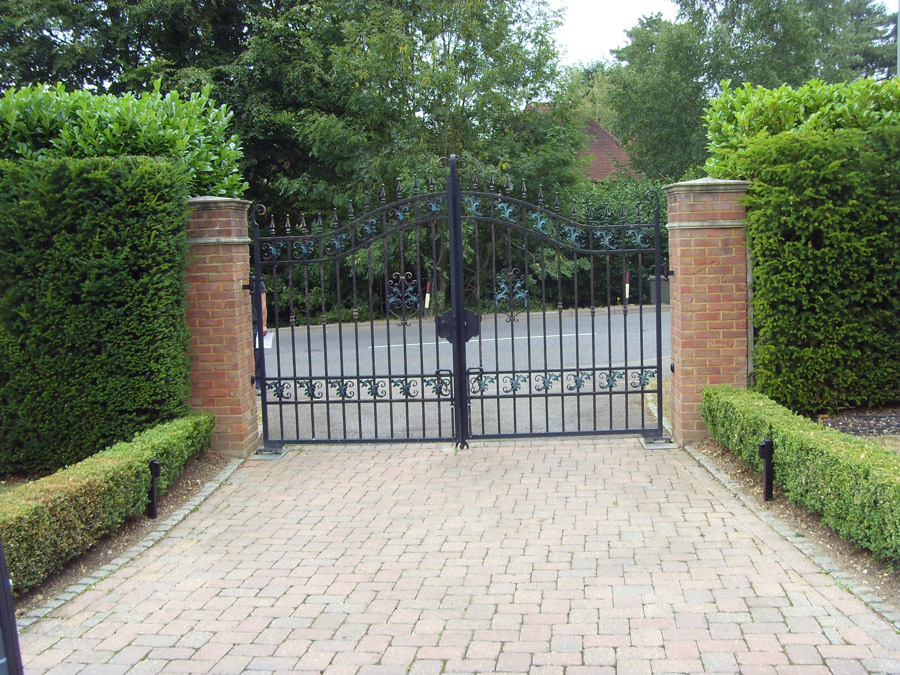 Runnymede Belle
These steel gates are designed to order with beautiful hand made scrolls, finished in a graduated blue tint. Elegant luxury.
Commercial Estate
These sturdy yet beautiful gates are coloured wooden panels fitted onto galvanised steel frames. This gives remarkable rigidity and reliability and provides amazing security.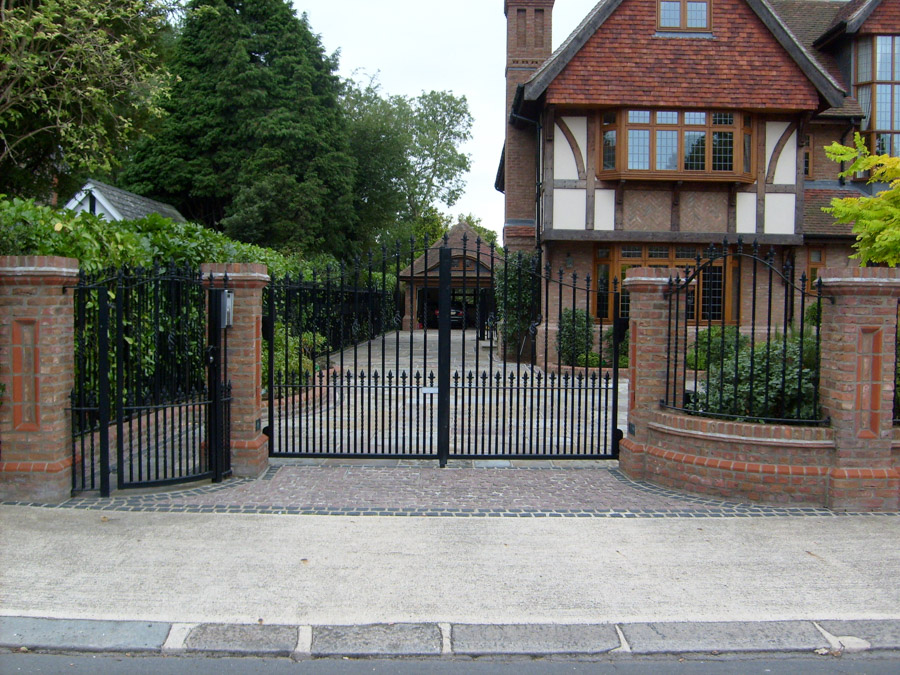 Northwood Classic
A beautiful pair of black steel gates to a classic, Elegant design. Easily automated with any type of operator these are one of our favourite gates and one of most popular designs.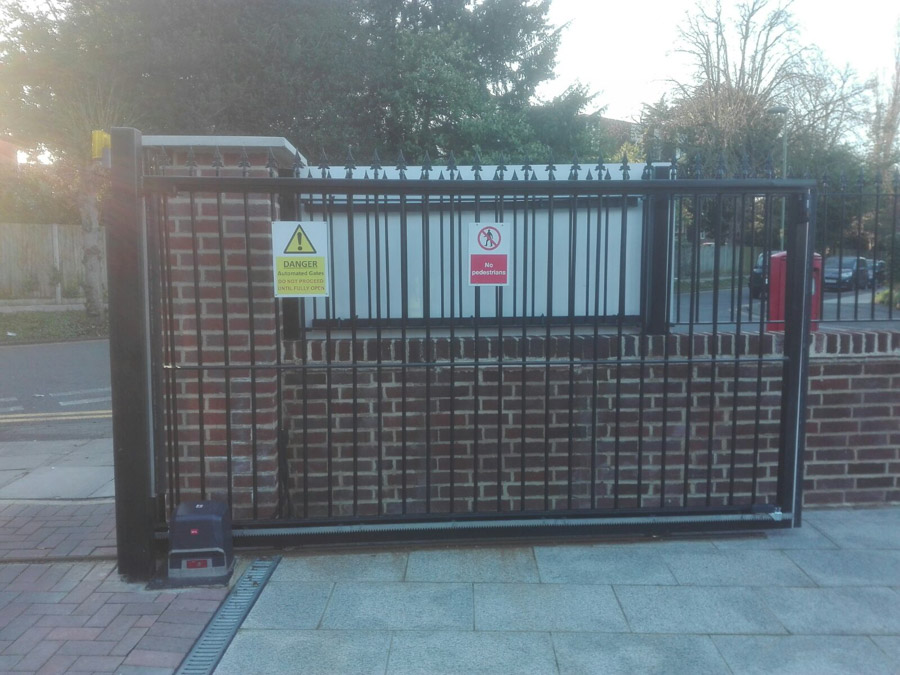 Hendon Estate slider
A Steel slider gate for the entry to a multi occupancy estate. Fitted with all necessary safety devices and fully automated using a heavy duty sliding gate motor. Reliability is the word.